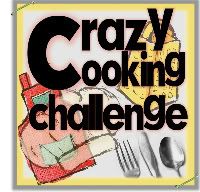 So, last month I signed up to be part of the Crazy Cooking Challenge at Mom's Crazy Cooking.  It's a "challenge", where Tina assigns a category, and as bloggers/cooks, we scour the blogosphere to find a recipe to make or adapt and blog about.  I missed the Macaroni and Cheese one-but found a REALLY good recipe from looking through some of the posts-and was super excited to see the next one was chocolate chip cookies.
It wasn't as easy as I had thought!  I put out a Facebook status, asking the fans of My Favorite Finds for suggestions on cookie recipes.  I do have the tried and true Chocolate Chip Cookie recipe from my mother in law, and our absolute FAVE from my mom-Peanut Butter Oatmeal Chocolate Chip cookies, but it's against the rules to use a recipe of your own.  So, thanks to Sara at Save Money, Live Joyfully, I found a recipe that our family loved.  It made A LOT of cookies!  And, truth be told, the cookie dough is really good, too!  I know that from personal tasting experience….over, and over, and over :).
Oatmeal Chocolate Chip Cookies (adapted from Save Money, Live Joyfully) 
Ingredients:
1 cup sugar
1 cup brown sugar
1 cup softened butter
2 eggs
1 teaspoon vanilla extract
2 cups flour
1 teaspoon baking soda
3 cups old fashioned, rolled oats
1.5 cups dark chocolate chips (I had a coupon for Nestle Dark Chocolate Chips.  Yum!)
*Heat your oven to 350 degrees.
*In your stand mixer, cream the butter and sugars together.  Add the eggs and vanilla and mix until they are well incorporated.
*Add the flour, baking soda, and oats.  Mix until a nice dough forms.
*On low speed, fold in the chocolate chips.
*Roll the dough into balls, and place on a cookie sheet.
*Bake at 350 degrees for 10-13 minutes, or until the edges are just brown.
*Cool for a few minutes on the cookie sheet.  Remove to a cooling rack.
I'm going to make these again, but next time I'm going to spread the dough out on the cookie sheet so they turn out more like bars.  Just for fun, to see what happens.
Now, I'm on the hunt for a mashed potatoes recipe. Anyone? Ideas? I'd so appreciate any suggestions!
For more Chocolate Chip Cookie Recipes and to vote for the best recipe, you can visit: