Today is Cookie Swap posting day!  If you remember, I'm cohosting "Gingerbread and Sugared Things"-a virtual cookie swap with some super sweet ladies!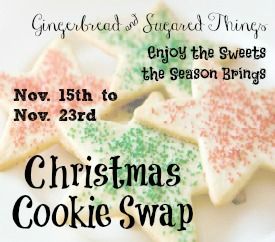 Co hosting today are:
Julie @ White Lights on Wednesday/Jaime @ Mom's Test Kitchen/Deb @ Cooking on the Front Burner/Carrie @ The Frugal Foodie Mama/Michelle @ Michelle's Tasty Creations/Kim @ The Sunflower Supper Club
You'll be able to see all the sweet cookies we have exchanged and made!  I was privileged to get a recipe from Elizabeth @ The Law Student's Cookbook.  It makes a cakey, sweet, yummy cookie-perfect for Christmas parties and to share with everyone!
Butterscotch Chocolate Cookies
Ingredients:
1/4 cup shortening
1 cup semi sweet chocolate chips
1/4 cup sugar
2 eggs
2/3 cup sweetened condensed milk
1 teaspoon vanilla extract
1 1/2 cups flour
1/2 teaspoon baking powder
1/4 teaspoon salt
1 1/2 cup butterscotch chips
3/4 cups powdered sugar
Directions:
*In a small pot, over low heat, melt the shortening and chocolate chips.  Let cool for five minutes.  Mix with the sugar, eggs, condensed milk, and vanilla.
*Combine the flour, baking powder, salt, and butterscotch chips.  Stir the wet mixture into the dry mixture and stir until there's no dry spots left.
*Cover and refrigerate for 1 1/2 hours.
*Line two baking sheets with parchment paper and heat your oven to 350.
*Roll the dough into 1 Tablespoon size balls.  Pour the powdered sugar into a shallow dish.
*Roll the balls in powdered sugar and place on the baking sheet 1 1/2 inches apart.  Take a spoon and gently flatten each cookie.
*Bake for 11-13 minutes.  Remove and cool.
Note:  I didn't have shortening, so I used butter.  And, I melted the butter and chocolate chips in the microwave instead of on the stove.  I REALLY want to make these again, and substitute peanut butter chips for the butterscotch OR add some coffee to the batter.  That would be SOOO good, too!
Thanks,
Elizabeth
, for sending me a yummy recipe!  My family loves it!