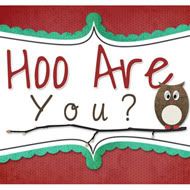 This week's "Hoo Are You?"  Questions…..
What are some of your favorite green foods?  
Avocados, Broccoli, Salad, Cucumbers
Do you decorate for St. Patrick's Day?
No, I don't.  I don't really decorate a lot, seasonally, between Christmas and Easter.
Do you have Irish in  you? 
Do you celebrate St. Patrick's Day?
Yes, but for a different reason.  It's my mother-in-law's birthday :).
Use one word that represents the word LUCK in your life.
L~Laughter
U~Uber fun
C~Caring
K~Kitchen