I just love having new faces on My Favorite Finds.  This month, gracing my sidebar is a "new to me blogger", Jessica.  Jessica blogs over at Jessica Who?, and one visit to her blog and you know you're in a happy place.  Not only is her blog gorgeous, but you are surrounded by fashion, beauty, and happiness on Jessica Who?.
She has such a unique story behind how she and her hubby met.  You can read more about the unique start to their relationship HERE.
She loves anything sour, and can eat a whole jar of pickles.  Also, cartoons freak her out, she is a proud Texan who has since taken up residence in Hawaii, and she has a true addiction to coffee.  Sound like you might have something in common with her?  You can find out more fun, random facts about her HERE.
I hope you will stop by and take some time to explore Jessica, Who?.  You will love seeing her underwater photo shoot, and experiencing life in Hawaii through her eyes.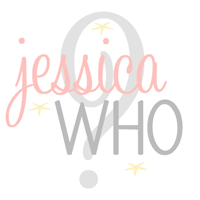 This girl is everywhere, too.  You can find her at:
Jessica is offering two months of medium ad space on her blog.  To enter, just fill out the Rafflecopter below: a Rafflecopter giveaway