Last week, my Pinterest Favorites feature was on pumpkin decorating.  So, while I was running on fumes after the kids went to bed, it was the perfect time to get out the hot glue gun, right?  I thought so.  I had picked up some gorgeous pumpkins from a local farmer's market Friday afternoon, and I was ready to decorate them.  I had four from the Farmer's Market and three from my parents' small
 garden.  I saved the three from the garden so each of the kids has one to decorate later this month.

Here is what I did with the first one:
*Spray painted the pumpkin using Krylon Antique Bronze (also the color I used on my monogram wreath).
*After the paint was dry, I started to ModPodge silk leaves onto it.  Yea, that didn't work so well.  So, I hot glued them instead.  I just hot glued them in clusters, randomly, on the pumpkin.
*When I was satisfied with the clusters of leaves, I hot glued a mosaic tile in the middle of each cluster. 

The second pumpkin isn't quite as detailed.  I simply took some wire, 2.5 in wide ribbon and glued it on the pumpkin.
*Starting at the stem, I glued the edge down, ran it down the side of the pumpkin, and glued the bottom edge towards the bottom center of the pumpkin.
*I did 4 lengths of fall leaf ribbon, and 2 lengths of a glittery, cream colored fall ribbon.
*After I did this, I felt like it was a little blah.  I took some of the silk leaves and glued them in 2 layers around the stem, to cover the edges of the ribbon.
*Finally, I tied a ribbon and hot glued it to the top, just at the stem.

Nothing very time consuming or detailed.  Both of these took me about 1 1/2 hours total, not including time for the spray paint to dry.
I'm excited about them…and this was much easier and less messy than painting or carving them!
Looking for more pumpkin ideas?  Head over to One Artsy Mama for pumpkin decor, recipes, and even jewelry.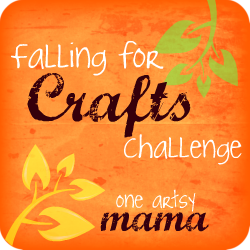 Linked to: Crayon Freckles